How To Clean Your Kitchen Cabinets
A cheat sheet for the most common stains and how to fix them up.
Nothing tells the story of your life quite like your kitchen cabinets. Think about it. Every crusted on grease splatter and smudged-on fingerprint is a tale about how you live, what you eat, and who you share your time with.
We prefer that way of thinking about our dirty cabinets over the idea that they're basically just hotbeds for sticky messes and stains.
Whether you're a glass is half full or half empty kind of person, stressing about your messy cabinets shouldn't be a thing. We've developed a full-on plan of attack for dealing with any kind of accident, from shoe scuffs to food splatters, and an easy cheat sheet for preserving the finish on your cabinets, whether painted, wood, laminate, or glass.
Cleaning your kitchen cabinets pairs well with wiping out your microwave, degreasing your stovetop and/or polishing up those gorgeous stainless steel appliances.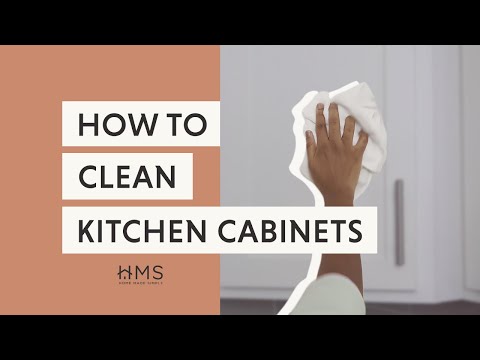 How to deal with the most common cabinet culprits:
Dust: Remove all the objects inside your cabinet and set them aside in a safe place. Then glide your Swiffer Duster throughout the interior and exterior of the cabinets, allowing the Swiffer's flexible microfiber strands to bend and flex into the surrounding nooks and crannies. Stand back and admire.
Scuffs: Use a white eraser to remove scuffs caused by chairs, shoes, or other furniture. Gently rub the eraser along the affected areas and then wipe your cabinets clean with a cloth. For an alternative, extra easy approach, turn to your Mr. Clean Magic Eraser to buff the scuffs out, first by wetting down the sponge, then by squeezing a few times to release the cleaning foam. After you wipe the scuffs away, remember to rinse the areas well and dry with a cloth.

Food splatters and grease: While there are certainly DIY home remedies to removing food splatters and grease, nothing quite does the job like the powerful clean of Mr. Clean Clean Freak. If you don't have this handy, try making a cleaning paste with 2 parts baking soda and one part water. Let it sit on the residue for a few minutes, then wipe it clean with a cloth.

Fingerprints: One of life's biggest unsolved mysteries is how we humans seem to get so many fingerprints all over our glass cabinet doors. (Is it that hard to grab the handle?) To get rid of them, make a mixture of one part vinegar, two parts water. Spritz the mixture onto the glass and wipe it clean with a microfiber cloth to avoid creating streaks.
Another consideration for cleaning your kitchen cabinets is their finish. Are they painted? Wood? Do they have glass windows or lamination? Each surface requires a slightly different approach. We'll break it down for you.
Painted Cabinets: Nothing breathes warmth into your space more than painted cabinets, but they can also accentuate splatters and stains. Spot cleaning painted cabinets is as easy as mixing one part water with two parts baking soda. Dab a towel into the mixture and spot treat any imperfections, making sure to let the mixture sit a few minutes before wiping it clean with a towel. For greasy food splatters, dip a towel into some diluted ammonia and wipe until the stain is gone.

Wood Cabinets: Wood cabinets come in a variety of finishes and for that reason, it's best to be conservative with your approach to spot cleaning them. We start with a mixture of 1 cup of water and 1 cup of vinegar. After spraying our cloth with this mixture, we wipe down the entirety of the cabinets, from top to bottom, inside and out. Pro Tip: Never oversaturate your towel when wiping your cabinets down or the wood will warp or bend. Also, make sure to wipe in the direction of the grain to avoid any scratches. Dry your cabinets using a microfiber cloth, making sure to buff out any lingering residue. Also, consider adding extra sealant over high-moisture areas, like above the stove or dishwasher.
Laminate Cabinets: The easiest way to treat a laminate cabinet is with a Mr. Clean Magic Eraser. Using the same method to remove scuffs (as detailed above) just dampen the sponge with a little water, then squeeze it a few times to activate its cleaning foam. Gently wipe any residue away, rinse, and towel dry with a cloth. Alternatively, you can spot clean with diluted vinegar or even apply a paste of baking soda and water (one part water, two parts baking soda) to remove particularly stubborn residues.
Glass Cabinets: Just as with cleaning the mirrors and glass doors in your home, you can easily remove fingerprints and splatters on your glass cabinets. Making your own glass cleaner just requires combining either a ¼ cup of vinegar with 2 cups of water OR ½ teaspoon of highly concentrated dish soap like Dawn and 2 cups of water. Mix everything together in a spray bottle and spritz your glass cabinets generously, making sure to wipe clean both sides of the glass with a microfiber towel. Be sure to wipe again with a clean, wet rag to finish, removing any soapy residue.
To be sure, your kitchen cabinets play a huge role in your home. Not just because they hold all your precious flatware, plates, mugs, and gadgets, but because they're a main visual focal point. Keeping them clean doesn't have to be a big chore, especially if you stay on top of messes as they happen. But even if you don't, you can make a Saturday of the whole cleaning thing. Surely that will earn you the right to blow off some steam Saturday night.