The Ultimate Guide To Getting Smoke Smell Out Of Your Car
A step-by-step guide to a fresher smelling ride.
Cigarette smoke isn't shy. Its scent has a way of weaseling its way into our clothes, rugs, and furniture with no apology. And yet, most agree, it's one of the most unpleasant smells around, rivaling odors like gasoline and sulfur.
That's why, when it comes to the smell of cigarette smoke in your car, it's simply got to go. Thankfully, we've compiled a roundup of ways to get that smell gone.
Whether you need a quick fix that easily relieves the stink or a deep clean to evict the scent for good, we've got you covered. With methods that span vacuuming, deodorizing, and even removing your cabin air filter (hello, pro cleaner!) you'll have your car smelling totally acceptable for you and your passengers in no time.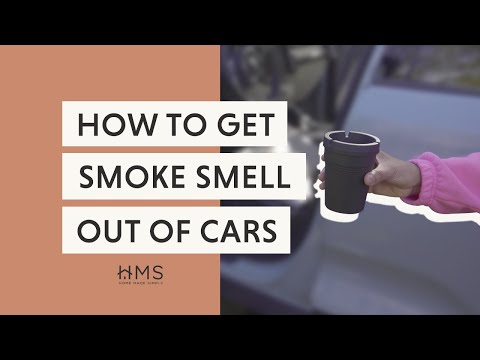 First thing's first. Let's address your situation. If you're interested in a quick freshening up, (aka your car is likely to experience smoke again) turn to our Quick Fix Tips and Tricks. Without exerting too much effort, your car will smell markedly better, good enough to take your pals around the block without self-consciousness.
But if you're trying to evict the scent for good, it's time for a deep clean. (There's no reason smoke has to be a lifetime sentence.) For that, definitely still take note of our Quick Fix steps, but also jump down to our Deep Cleaning Tips and Tricks, which include more advanced tips to give your car a bona fide second life.
Quick Fix Tips and Tricks
The first thing to do is to gather all your cleaning materials:
Multi surface disinfectant
Vacuum or shop vac
Spray bottle
Vinegar
Water
Air freshener
Step One: Eliminate the culprit
Rid your entire car of any signs of cigarette residue or ash. That's right, sweep your vehicle, making sure to trash the contents of your ashtray. Set your ashtray outside your car and spray it down with a multi-surface disinfectant, like Microban 24 - it kills 99.9% of bacteria for 24 hours* when used as directed. Just spray and walk away, allowing the product to air dry.
Step Two: Vacuum
Soft surfaces in your car are highly susceptible to absorbing smoke. To combat this head-on, use a portable vacuum to suck up scent-clinging particles. Make sure to get into all the small nooks and crannies, using the hand attachment for the particularly hard-to-reach places, like in between the seatbacks and bottoms. Pro tip: use your spare hand to separate the seams in the car seats so that you can use the other hand to press firmly down with the vacuum, sucking up even the bits you can't see. Remove the floor mats and vacuum underneath, then keep the mats outside the car so you can later assess if they still smell like smoke.
Step Three: Recirculate the air
To help clean away the smoke odor, spray Febreze Fabric Auto on the soft places in your car, including the seats and seatbacks. Then, open all the doors to your car and turn the vents on "recirculate". Let the air move through the entire system for at least an hour.
Step Four: Clean the hard surfaces
Clean your car windows and mirrors with a DIY cleaning solution. In a spray bottle, combine ¼ cup vinegar with ½ teaspoon of liquid dish soap like Dawn, then pour in 2 cups of water for dilution. Shake the bottle thoroughly and then spritz your windows and mirrors accordingly, making sure to wipe and dry everything down with a microfiber cloth. Then, spray and wipe the plastic areas of your interior with Microban 24, which not only cleans but actually provides protection against bacteria on non-porous surfaces for up to 24 hours when used as directed*.
Step Five: Put everything back and hang an air freshener
After you ensure your ashtray and car mats no longer smell like smoke, go ahead and put them back in your car. For good measure, consider hanging an air freshener on your rearview mirror.
Deep Cleaning Tips and Tricks
If you're really serious about getting the cigarette smoke funk out of your car, it's time to pull out all the stops. In addition to the techniques listed above, follow these steps for an even deeper clean.
First, gather all your materials:
Baking soda
In-cabin air filter
Can of car deodorizer
Step One: Sprinkle some baking soda
Baking soda is a great medium for trapping odor. Start by sprinkling it over all the soft spaces in your car (even between the seats and on the interior side of the roof). You might feel a little like you're vandalizing your own car here but go with it. Let the baking soda sit for about 36 hours and then vacuum it up. It's easy for baking soda to stick to your seats, so you'll probably want to repeat the vacuuming process several times.
Step Two: Replace your in-cabin air filter
If you've never replaced your air filter, you'll be amazed at the dirt, grime, and smells it traps inside. To replace it with a fresh one, first, remove everything out of your glove box, then slide the glovebox off its hinges to remove it completely. For most car models, you shouldn't need any tools for this. Pull out the smoke-saturated air filter and throw it away and insert your fresh one. It's that easy.
Step Three: Deodorize your HVAC
One of the very best ways to eliminate the smoke scent is by using your HVAC to blow a deodorizer throughout your car. First, roll down all your windows and locate the HVAC intake. (It's most likely located somewhere near the base of your windshield.) Turn your ignition on and set your system to recirculate. You'll want your fans set to their highest setting and your temperature to its lowest. Spray the deodorizer through the HVAC intake (inserting an extension tube directly into the vents if you have one) and then turn your ignition off. Let your car sit with the windows down until the deodorizer settles. Boom. Your car just got a scent makeover.
That's it! The only thing left to do is enjoy your ride sans the stink! You'll be glad you made the extra effort and we're guessing your passengers will be, too.
*When used as directed, effective for 24 hours against Staphylococcus aureus & Enterobacter aerogenes bacteria. Microban 24 does not provide 24-hour residual virus protection.